EmSculpt in Hackensack, New Jersey
Drop and give me 20,000! Grueling workouts used to be the only way to get the toned, sleek physique you work so hard for. Some non-invasive treatments and liposuction will shed fat, but nothing can replicate the sought-after look of a defined abdomen, until now. Board-certified plastic surgeon Dr. Robert Morin is proud to offer EmSculpt to his Hackensack patients. EmSculpt - a ground-breaking, non-invasive procedure, is the only one of its kind to comfortably and effectively build muscle while removing fat at the same time.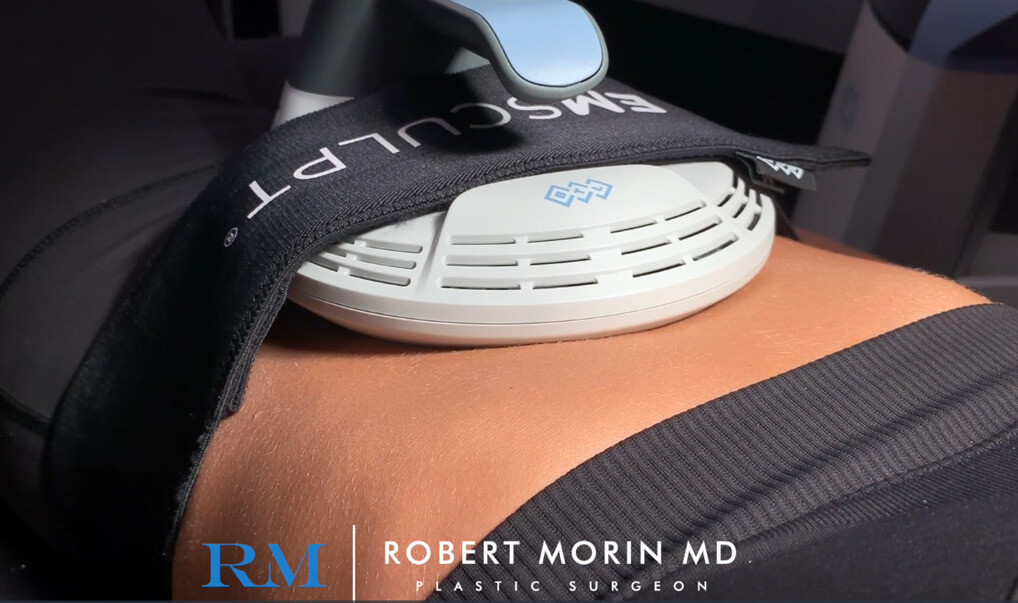 What is EmSculpt?
EmSculpt is an FDA-cleared, non-invasive procedure that utilizes high-intensity focused electromagnetic stimulation or HIFEM, to cause muscle contractions in the abdomen, legs, arms, or buttocks. In just 30 minutes, this first-of-its-kind procedure is able to replicate the equivalent muscle contractions of 20,000 ab crunches! These high-intensity contractions restructure the foundation of targeted muscle tissue, adding muscle while eliminating fat.
What is an EmSculpt treatment like?
During an initial EmSculpt consultation with Dr. Morin at his Hackensack, New Jersey practice, a comprehensive plan of action will be developed for each individual's aesthetic goals. During treatment, patients are able to lie down comfortably and relax while the EmSculpt machine is hard at work. As the treatment begins, the patient will begin to feel a tapping, contracting sensation in the targeted area, similar to how muscles feel during and after a workout. This sensation might be a bit uncomfortable at first, but patients typically report no pain and get used to the feeling quickly. The treatment lasts 30 minutes and patients generally report no discomfort, minimal soreness, and no downtime! You can watch Netflix, listen to music, or scroll through your phone.
Packages start with 4 sessions of EmSculpt, scheduled 1-2 times per week, in order to obtain initial results. Affordable maintenance packages then allow you to come in for a quick session whenever you want to look your best - to further tone your muscles before an event, an important date or your next beach trip.
Contact Us
If diet and exercise are not cutting it, EmSculpt in Hackensack may be right for you. Contact us or fill out the form below to schedule your initial consultation with Dr. Robert Morin and his Bergen County, NJ team of experts. Visit our testimonials page to check out patients' experiences as well.