Anesthesia is administered to ensure the patient's comfort and help ease any pain. A well-concealed incision is made from the patient's ear to their hairline. Dr. Morin uses surgical tools to reposition deep muscles and tissues. He re-drapes the skin and removes excess skin. In this way, Dr. Morin is able to lift the corners of the mouth and decrease the appearance of wrinkles lining the space between the cheeks and lips.
A facelift performed by Dr. Morin is considered an out-patient procedure and is typically completed within 2-5 hours, depending on the complexity. Following the procedure, Dr. Morin seals the well-concealed incision with and may place a drain beneath the skin on the back of the ear. Bandages are then carefully wrapped to discourage swelling.
View Gallery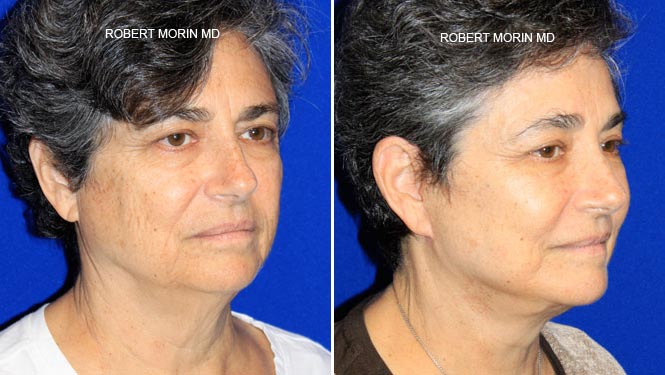 *Results may vary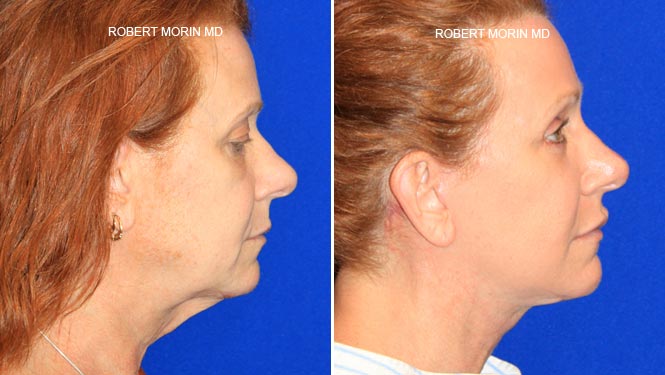 *Results may vary
The bandage will be removed within 2 days, while stitches will be removed by Dr. Morin within 10 days. It is highly recommended that potential patients avoid smoking and drinking alcohol in the days leading up to the procedure.
A facelift involves minimal downtime, and patients are generally able to go out of their homes a week after surgery with makeup. They can resume their normal level of physical activity within 3 weeks after the procedure. It is normal for your face to feel stiff after surgery. Numbness and dry skin is common after a facelift, but will gradually subside after a few months.