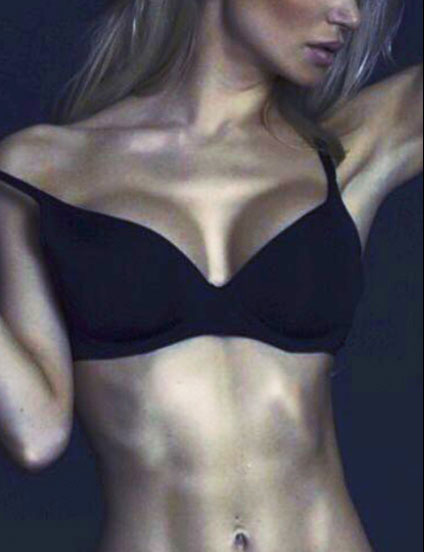 Dr. Morin's patient, a professional model, after her breast augmentation.
Breast augmentation is one of the most commonly performed plastic surgery procedures in the world. It is still surgery however, and it should therefore only be performed under general anesthesia, using the no-touch technique (aka. Keller Funnel®2), by a board-certified plastic surgeon. Breast augmentation using silicone implants is one of Dr. Morin's main areas of expertise. That is one of the reasons why he was voted by his colleagues as one of the New York Metropolitan area's top plastic surgeons by Castle Connelly. Dr. Robert Morin's expect surgical technique places breast implants more precisely, gently, and with minimal trauma to the surrounding tissue. This technique also results in a smaller incision and less postoperative pain.
ADDITIONAL BREAST AUGMENTATION INFORMATION:
Infra-Areolar Incision Breast Augmentation
"No Touch" Breast Augmentation Technique
OMG i have no idea where to begin! My experience with Dr. Morin and his entire staff has completely surpassed my expectations. I had a breast enhancement and they look amazing and
— Siobhan P.
In Search for the Best Type of Implant
Best Breast Implants Candidates
The most recommended implant used in breast augmentation at our NYC surgical facility is made of a strong silicone shell that is filled with either saline (salt water) or a soft, natural textured gel (silicone). Silicone breast implants have had a complicated past in the United States. Due to concerns about the safety of early silicone implants, the Food and Drug Administration (FDA) banned the use of these implants for cosmetic breast augmentation in 1992. Over the next 14 years, a massive amount of data from clinical studies was reviewed. In a statement released in 2006, the FDA finally overturned the ban, and stated that silicone implants were "safe and effective." Since that time, silicone implants have been successfully used on all types of patients with an extremely high level of patient satisfaction. Dr. Morin prefers to use silicone implants because he believes they result in a more nature and long-lasting result compared to saline implants, with an equally high level of safety. Furthermore, for those who are concerned about the presence of silicone in their implant, it is important to remember that all implant shells are made of silicone, regardless of the inner filling.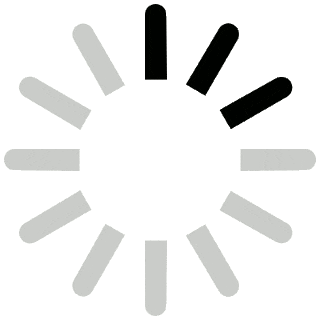 View
Full
Video
A breast augmentation with 350ml silicone implants positioned through a periareolar incision below the muscle.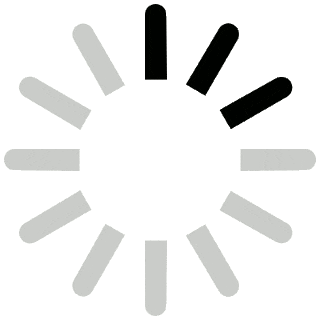 View
Full
Video
Breast Augmentation NYC
Robert Morin MD Plastic Surgeon
| Different Types of Implants | SILICONE | SALINE |
| --- | --- | --- |
| Composition | Silicone implant shell filled with silicone cohesive gel | Silicone implant shell filled with saline solution (salt water) |
| Feel | Soft, natural | Firm due to the need to over-fill in order to prevent rippling |
| Durability | Generally lasts forever | Risk of rupture increases significantly after 10 years |
| Control of Volume | Silicone implants are sealed, no adjustments to volume can be made during the procedure however different size implants can be used to address asymmetry | Adjustments to volume can be made during the procedure by adding more or less saline |
| Candidates | FDA-approved for patients 21 or older | FDA-approved for patients 18 or older |
| Cost | Slightly more expensive | Slightly less expensive |
Breast implants can generally be inserted into two anatomic locations: below the breast tissue and chest wall muscle (submuscular) or below the breast tissue only (subglandular). Most commonly, Dr. Morin prefers the submuscular location, or hybrid call the dual-plane, as these techniques offer some advances including a more natural look. Several studies have also reported a lower risk of capsular contracture (post-operative tightening around the implant) when the submuscular position is used.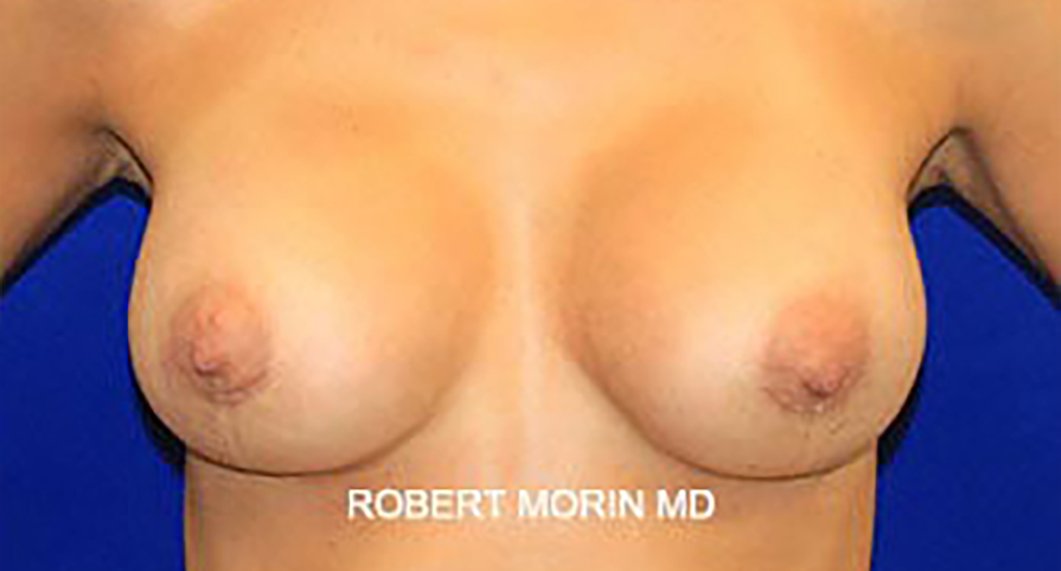 Dr. Morin surgical techniques are designed to leave you with the least visible scars possible following surgery. Dr. Morin typically recommends the least noticeable option – the periareolar incision (the interface between the light breast skin and the darker areola). In minority of patients of insist on it, he will use an inframammary fold incision (an incision in the crease on the underside of the breast), however he believes this is a less ideal option. Two other described incision sites, transaxillary (armpit) and transumbilical (belly button) are not recommend at all. During your consultation at our NYC office, Dr. Morin will be happy to discuss in detail the incision location he believes will be best for you. He will also explain why he will not perform breast augmentation through the armpit or the belly button.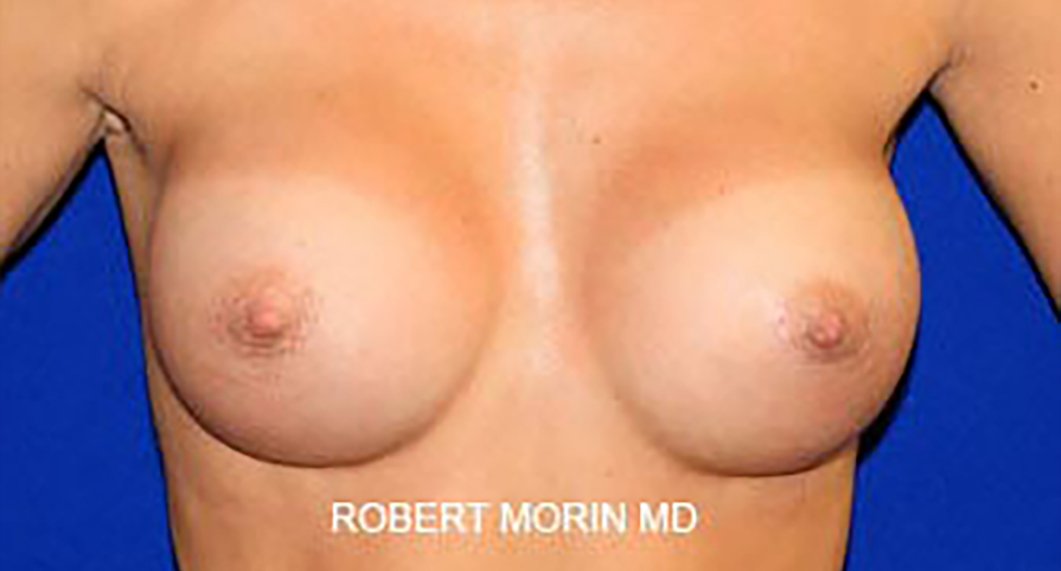 A breast augmentation generally takes between one and two hours, and is performed under general anesthesia at our New York City facility. Dr. Morin will make small incisions and the breast tissue is then elevated in order to carefully and precisely create a pocket into which the implant is placed. Using the Keller Funnel®2 "no-touch technique" technique, Dr. Morin can keep the incision size as small as possible, allowing periareolar incisions to be used in almost all of his patients regardless of nipple and areolar size. This technique reduces the risk of infection and capsular contracture, prevents damage to the implant, and significantly reduces operating time. Once the breast implants are properly in position, the incisions are meticulously closed. A surgical bra is used post-operatively for support and comfort. Most patients will feel pressure and soreness immediately following surgery, but pain is minimal. Patients are usually able to return to work within a few days.
When performing breast augmentation surgery, Dr. Morin follows a unique set of rules that helps ensure the highest level of patient safety and comfort. Dr. Morin only performs breast augmentation surgery under general anesthesia and at a full accredited surgical facility. In addition, Dr. Morin only uses the highest quality breast implants that are approved by the US FDA. Dr. Morin is well known for his consistent use of the "no-touch" technique. This technique ensures the smallest incision possible and protects the implant from contamination and damage. Dr. Morin performs his cosmetic breast surgeries on an out-patient basis, meaning that you will go home the same day. You will, however, need to leave the surgery center with a responsible adult who can ensure your safety while the anesthesia completely wears off. If no one is available, we can arrange to have a nurse take care of you for a few hours or even overnight. Rest assured that you will be able to manage your entire recovery period, beyond the drive home, by yourself if you wish, in the comfort of your own home.
It is completely normal and even expected to have mild pain following your surgery that most patients describe as pressure. This sensation can usually be reduced by taking your prescribed pain medication or muscle relaxant. Your breasts may also look like they are sitting a little high on your chest initially. This too will resolve with time as the implants drop during the recovery period and settle into a more natural position. Dr. Morin will recommend massage exercises and silicone based scar products postoperatively to ensure that your results are as beautiful as possible. You will need to refrain from strenuous exercise for several weeks in order to prevent complications during the healing process.
FAQs
1. How big can I go?
Dr. Morin is always mindful of achieving the most beautiful but also the most natural looking results. Every patient is unique. Depending on your body size and shape, Dr. Morin will tailor the size of your breast implants to give you the most proportionate look without creating obvious signs of a breast augmentation. Using your specific measurements and a wide variety of implant sizers, you will work together with Dr. Morin to determine the ideal size implants that are safe, long lasting and aesthetically pleasing. Dr. Morin will not make you look fake or overdone.
2. How should I prep for surgery?
Dr. Morin and his highly trained office will go over all of the details of how to prepare for your breast augmentation surgery well before the surgery date. You should ideally plan to take 4-7 days off from important commitments such as work, school, and other essential obligations while you recover. We will also ask that you schedule a physical exam and a blood test to ensure that you are healthy enough to undergo surgery. Finally, you may have to stop taking certain medications and vitamin supplements prior to surgery and you will definitely need to refrain from smoking.
3. Will I need additional surgery in the future?
A breast augmentation by Dr. Morin is designed to be long-lasting and you can potentially reap the benefits of a single procedure for decades. Still, there is always the possibility that a patient may need follow up surgery to improve the shape of the breasts over time. Additional surgery may be required following pregnancy, breast feeding, aging and significant weight loss.
4. Am I a candidate?
Provided you are in good physical health, over the age of 18 and you are unhappy with the small size of your breasts, you are likely a good candidate for breast augmentation surgery. If you are self-conscious about the size or shape of your natural breasts and you want larger, fuller breasts, breast augmentation may be the solution. Cosmetic breast surgery has a long record of excellent results. Most importantly, it has been shown to significantly increase self-confidence. We encourage you to make an appointment to visit Dr. Morin in person for an evaluation. This is the best way to determine if breast augmentation is right for you.
Why Choose
Dr. Robert Morin, MD, FACS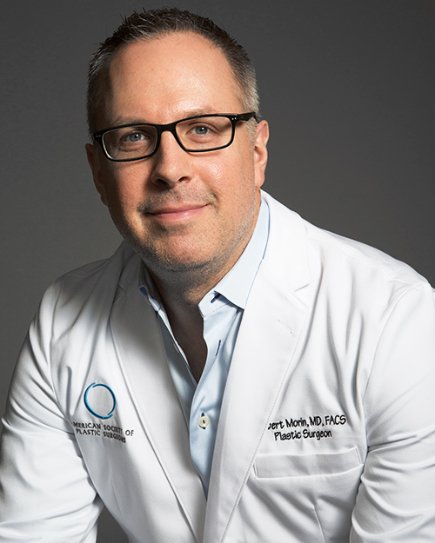 Dr. Robert J. Morin, a board-certified and reconstructive surgeon is the only plastic surgeon in the New York area to dedicate his focus on creating the optimal aesthetic outcome for his valued patients. His extensive training, talents and passion for tending to his patients have lead him to create some of the most desirable and highly sought after results for breast augmentation. Dr. Morin offers a full spectrum of breast augmentation procedures based on your needs, physique and lifestyle.
The breast augmentation specialist utilizes high-grade, FDA-approved saline and silicone and gel implants to create beautiful contour and the most natural results possible. Though augmentation mammoplasty is one of the most performed procedures in the world, the touch of an adept surgeon is required for a desirable outcome. Having studied a wide range of specialties and received extensive training in craniofacial surgery, facial cosmetic surgery, pediatric plastic surgery and cosmetic breast and body rejuvenation, Dr. Morin is a leading plastic surgeon in the NY area.
Dr. Morin attended New York Medical College where he was a proud member of the Alpha Omega Alpha and represented his college chapter of the American Medical Association. The burgeoning intellectual continued his journey, after earning his medical degree, to complete competitive programs at the University of Medicine and Dentistry o f New Jersey where he underwent his combined general and plastic surgery residency. It was during this period, he served as Plastic Surgery Chief Resident. After his accomplishments, he continued post-graduate training and pursued his specialty focus as a Craniofacial and Pediatric Surgeon at Miami Children's Hospital.
Dr. Morin combines his breast augmentation technique with his artistic approach to create a natural breast that looks, feels and functions naturally. He continues to advance his methods and lead the plastic surgery community through his lectures at medical conventions and contributions to medical literature. The highly-specialized reconstructive and plastic surgeon believes that all cosmetic and surgical procedures are judged on their "aesthetic" results. This is why patient satisfaction is placed at the forefront of his design, his goal is to create the best breast augmentation results possible.
Dr Morin is a proud member of The American Board of Plastic Surgery and has shared his accomplishments at medical conferences from New York to Israel. His personalized technique utilized during breast lifts, breast implants and other breast augmentation procedures produce confidence and excellent results for the many patients he has served over the span of his career. Dr. Robert J. Morin belongs to many regional and national plastic surgery societies and is a distinguished contributor on RealSelf.com.